How Much Does Pool Leak Detection Cost?
The last thing anyone wants to deal with is a leak. But if you put it off for too long, a tiny leak can turn into a significant headache for your pool and yard. Depending on the severity of the leak, you may find that fixing it needs a lot of cleanup on your property. The importance of finding leaks quickly cannot be overstated. Early detection of a leak allows for quick repair before it causes major problems. If you can't find a leak but suspect other issues with your pool, it's best to get in touch with a pool leak detection professional as soon as possible. They will be able to provide you with the assistance you need.
Factors affecting the cost of pool leak detection include:
The cost of fixing a leaking pool depends on a number of factors. The price depends on a variety of factors, including the intricacy of the plumbing and the pool's size. Most methods of locating leaks in a swimming pool will cost you between $100 and $500. Companies like Fox Pools don't just locate leaks but devise strategies for fixing them. By sticking with the company that first spotted the problem, you can rest assured that it will be fixed properly. This way, you can finally stop worrying about your pool and start enjoying it again.
Find out what is causing the leak
If not a leak, what could it be? There may be no leak if the only sign is a drop in the water level, as this could be the result of evaporation. A standard pool can lose about 2 inches of water every week due to weather. The evaporation and loss of water from your pool can also be due to:
Before assuming a leak is to blame for water loss, it's important not to rule out other possible causes, like higher-than-normal temperatures, extreme weather, or other climatic conditions.
A lack of humidity
Conditions of extreme heat and cold
UV radiation from the sun
If you find that evaporation isn't the cause of the pool's leak, you can move on to other possible causes. Is this a newer or older version of the pool? Did a professional properly install it? Do any PVC pipes surrounding the equipment have deteriorating leaks or seals? Contacting the plumber who worked on your pool's plumbing and asking for an assessment of the plumbing and system is an option if the pool was professionally plumbed. A faulty seal or careless handling could be to blame for the leak. When attempting pool leak detection, the homeowner should think carefully about these issues.
 Put precautions in place
Some pool owners take preventative measures by having their pools, and associated plumbing inspected annually. This greatly reduces the likelihood that they will experience leaks. It's best to get in touch with a specialist. But there are some common areas around your pool that you can check first. In most cases, only a few vulnerable spots need attention. There are many potential entry points for water to escape from your pool. The return interfaces, pool light, and skimmer are the most common spots.
Get rid of plumbing problems
Issues with the plumbing of the pool are common. Prevalence may be higher in areas prone to weather extremes. It is best to inspect the plumbing system once a year as part of the general maintenance of your home.
Watch out for any pool leaks
In the case of a pool leak, would you know what to check for? The following are things to keep in mind. Remember to talk to a pool service professional about:
Puddles of water in your yard or elsewhere on your property could indicate a leak in your swimming pool. To check for leaks, get help from a professional who can find and fix leaks in pools right away.
Pool tile movement may point to a leak and the subsequent water damage it causes.
Another sign of a leak is an increase in algae growth in and around the pool.
Be wary if you see a rise in the price of your water or another utility.
Leaks need to be looked at more closely when there is a lot of water loss compared to the amount of water that would normally evaporate in the area.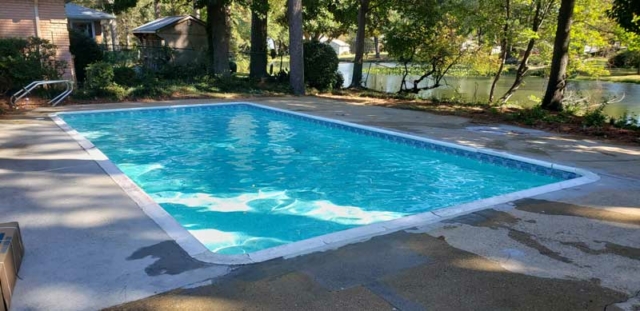 If you can provide the pool leak detection company with as much detail as possible, you'll have a better chance of negotiating a lower price for their services. Professionals in the field of pool leak detection will charge you more if they have to go through the hassle of various leak detection services just to find your leak. You can save them time and effort by narrowing their search for the leak to a specific area if you have a good idea of its location. When you can reduce the amount of assistance your repair crew needs to provide, you will spend less money.
Conclusion
If you suspect your pool may be leaking, it's best to take caution and inspect it with professionals. Even if you're not thrilled about paying for their assistance, consider how much more expensive it could be to fix even small damage to your pool. If you're a pool owner in need of a dependable pool leak detection service at a fair price, contact Fox Pools today.
https://d3f55zfyw9z78c.cloudfront.net/wp-content/uploads/sites/120/2022/02/02020635/20220127_085708-scaled-e1646475995351.jpg
540
1200
poolmarketing
https://d3f55zfyw9z78c.cloudfront.net/wp-content/uploads/sites/120/2021/03/18200913/COLOUR-SHADOW-PNG-300x154.png
poolmarketing
2022-09-23 20:22:12
2022-12-15 20:23:48
How Much Does Pool Leak Detection Cost?