Pool Inspections for Spring
It's not a fluke that your pool's gleaming water appears out of thin air. As long as you keep up with your responsibilities, you'll reap the benefits. Your pool will stand out from the crowd if you fulfill your responsibilities in a timely manner. One of those jobs you should never skip is swimming pool inspections.
Aside from making an appointment, there are many factors to consider when performing a pool check. To provide just a few examples, the frequency and method by which pool inspectors carry out their inspections vary. Have any questions about swimming pool inspections? Fox Pools is here to answer them!
Schedule pool inspections for spring early
Any pool will experience wear and tear as well as damage from exposure to the environment. To keep the pool operating at its optimum, it is necessary to repair and maintain this kind of damage.
It's a good idea to stick to a regular inspection plan for your pool. Many people choose to have them examined by a professional before dipping into their swimming pools for the first time this summer.
As temperatures rise, pool inspectors are more likely to be on the clock.
Families may have to wait a long time to find out if the pool is safe. As a result, you should make every effort to have an inspection scheduled as soon as possible. This includes taking care of the pool's pump, filtration system, leak detection, or filter cleaning.
What do pool inspections include?
There are many distinct aspects to a pool inspection. Inquire ahead of time about the scope of the inspection that your swimming pool needs.
Pool filter
You may find a variety of pool filters that perform the same thing: purify and disinfect the pool water, regardless of kind. If you don't have one, you'll have a pool that's a disaster! An inspector's role is to ensure that your pool filter is securely in place. Also, all the valves that lead to the filter are working properly.
Saltwater corrosion
Saltwater pools are a luxurious alternative that requires fewer quantities of chlorine to sterilize and requires less maintenance. There's a danger that salt will corrode metals. When inspecting saltwater pools, inspectors must exercise extra caution.
Equipment operation
A visual inspection and basic operation of the pool or spa's equipment, including heating systems, valves, motors, filters, and pumps, will be part of the inspection. An inspection of the equipment will look for problems, such as leaks in exposed plumbing, insufficient electricity or heating, and other malfunctioning parts. The topic of pool safety and equipment lifetime will be introduced during an inspection. This will help determine whether or not the equipment needs repair or total replacement.
Pool pumps
Your pool's pump is a critical piece of equipment. A pool can only be used for a short time if the pump is not working properly. Inspectors check the pump to see if it's working right and make sure the wiring is safe.
Pool interior
Vinyl liners feature in some pools. To prevent water from escaping the pool, these devices are ideal. Repairing a tear in the liner could be expensive.
A variety of plasters help to finish off other swimming pools. Inspectors look for cracks in the plaster that could become a problem in the future, though some cracking is to be expected.
Pool safety
It is the job of pool inspectors to ensure that your time in the sun is as enjoyable as possible. For example, they may inspect to make sure that the pool is clear of any electrical wires and that the walks around your backyard pool are safe against trips and falls.
Inspections of the pool's fencing and latches, if any are there, are important to ensure that nobody who shouldn't be in the pool gets there by accident. The fence's design should make it difficult for small children to climb over, preventing children from sneaking in unnoticed. Local legislation can provide a different minimum height requirement.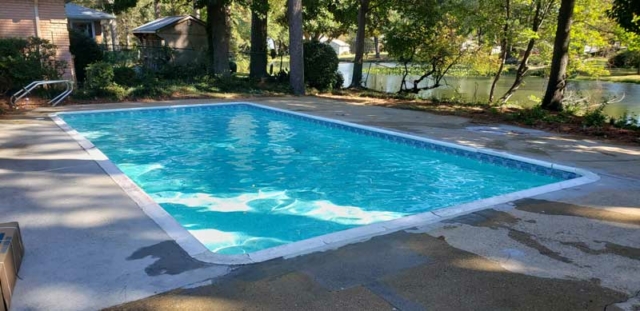 Pool lighting
A common feature of many pools is the inclusion of underwater lighting. Pool inspectors should test more modern LED lights and old-fashioned light bulbs to ensure they work properly. They will inspect the pool lighting fixtures for moisture, which can lead to mildew and mold problems. This person could also tell you what kind of lightbulb you'll need.
Pool inspections with Fox Pools
You're aware that while performing a pool check is not required, it is strongly advised. You need a professional to check a pool because the typical individual doesn't know what to look for.
Your family's peace of mind is worth the cost. As a new homeowner, you don't want to face an unexpected financial burden. Do you have any questions concerning pool inspections? Contact Fox Pools so we can help.
https://d3f55zfyw9z78c.cloudfront.net/wp-content/uploads/sites/120/2021/03/18184139/East_Coast_Pool_Day_2746-e1676100745658.jpg
427
640
poolmarketing
https://d3f55zfyw9z78c.cloudfront.net/wp-content/uploads/sites/120/2021/03/18200913/COLOUR-SHADOW-PNG-300x154.png
poolmarketing
2022-03-10 23:12:13
2022-07-18 23:19:24
Pool Inspections for Spring