How to Clean Your Pool Filter
You may not have cleaned your pool filter in a while. A lot more practice will help if you have trouble remembering. Keeping your pool clean is an essential element of pool care, and it can save you money in the long run.
Even if you don't own a pool, you should know how important it is to keep the water free of debris. Cleaning your pool will protect against disease-causing germs and bacteria and extend the life of the pool. Swimming pool filters come into play here.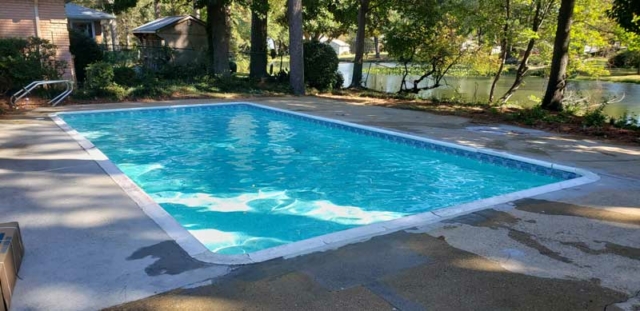 Pool filters trap debris, bugs, small particles, and other pollutants, removing them from your pool water. They also serve as a deterrent to the growth of bacteria and algae. Even though cleaning your pool filter isn't the most fun thing, it's necessary.
No matter what kind of filter you have, the steps for cleaning it are the same.
Pool filters come in three categories:
Diatomaceous earth (D.E.) filters
Cartridge filters
Sand filters
Each filter type has a somewhat different method of cleaning. It's easy to include pool filter cleaning in your annual spring maintenance checklist so that your pool is ready to use come summer.
Is it necessary to clean your pool filter in the pool?
As with any other piece of equipment, a pool filter will eventually fail. For example, poor cleaning can hasten this process and shorten its usefulness.
The filter becomes clogged with chemicals and debris over time. Filters in swimming pools can often clog and are less effective if you do not clean them regularly. Poor water quality and bacterial growth are the end outcomes.
Circulation of pool water is impossible without filters. To keep the swimming area clear, they spread the chemicals you put in the pool and help spread them out.
The pool pump may malfunction if the filters are clogged. It's possible that it will overflow and flood, resulting in significant property damage. Pool filters need cleaning to avoid costly repairs and the spread of contagious diseases.
How to clean your pool filter.
Cartridge Filters
It's good to hose down your cartridge filters every 2 to 3 weeks to prevent them from deteriorating and clogging. To do this, just remove the cartridge filter housing and clean it with a hose to remove any debris and dirt that has accumulated on it. It's a simple process that normally takes a few minutes to complete.
If you've hosed down and soaked the cartridge filter and it does not improve your pool's filtration, it might be time to replace the filter. If you have a stained cartridge, squishy to the touch, has small tears and holes, or generally looks unkempt, it's probably time to replace it. It's easy to swap out cartridge filters; just remove the old ones and insert the new ones.
Sand Filters
It's time to backwash your sand filter once you've concluded that it needs a good cleaning. Backwashing is the technical term for cleaning a sand filter. You'll find a 6-setting multi-port system on your sand filter. Circulate, rinse, backwash, and filter. Closed and waste are the final steps in the filtration process.
The technique of backwashing is quite straightforward. You should turn off the pump and leave the multiport valve handle set to "backwash" (or until you can clearly see the filter's glass viewport). Set the multiport valve handle to rinse and allow it to run for a few minutes before shutting off the pump. Turn the pool pump back on after resetting the multiport to filter mode.
Based on the kind of media you're using in your pool, you need to replace sand pool filters every 5 years.
Diatomaceous Earth Filter
A diatomaceous earth filter needs backwashing in the same manner as a standard sand filter. As a result of the high loss of diatomaceous earth media during backwashing, these filters are more expensive to maintain than sand filters. This necessitates frequent replacement of the DE media.
Additionally, DE filters have to undergo annual cleaning and degreasing to ensure good operation. On the other hand, DE is ultra-fine, necessitating the use of protective gear. Since diatomaceous earth can be harmful to human health, certain regions require particular permits and training for its use.
Conclusion
If you're uncomfortable or have less time to enjoy your backyard pool, Fox Pools is here to help. We understand that the few moments of peace you have to yourself in today's fast-paced world are priceless. Because of this, we have a team of professionals ready to inspect and clean your pool filter. Contact us today for your pool filter cleaning, inspection, leak detection, etc.
https://d3f55zfyw9z78c.cloudfront.net/wp-content/uploads/sites/120/2021/03/18184139/East_Coast_Pool_Day_2746-e1676100745658.jpg
427
640
poolmarketing
https://d3f55zfyw9z78c.cloudfront.net/wp-content/uploads/sites/120/2021/03/18200913/COLOUR-SHADOW-PNG-300x154.png
poolmarketing
2022-03-03 23:12:07
2022-07-18 23:18:57
How to Clean Your Pool Filter